MY GRADING IS ALL DONE FOR THE YEAR.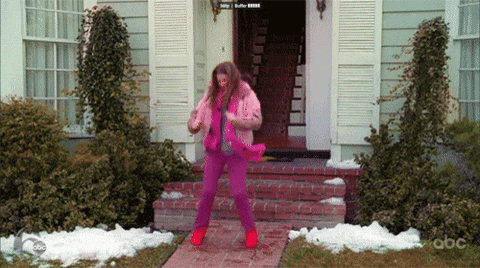 Image description: A lady dressed all in pink with bright red shoes does an excited dance on the front stoop of her mint green house.
In celebration, it's time for that tradition where we answer the things people typed into search engines as if they are questions.
Here's a mellow tune to relax you:
And now for the search engine snippets.
1 "How to make your parents divorce."
This one is pretty much up to your parents. If they bring up "staying together for the children" as a thing they are trying to do, you might be able to say "I really appreciate that, but I want you both to be happy and I know you'll be great parents even if you decide not to stay married."
See also: "Wow, I appreciate the thought but that's a lot of pressure! What would make you most happy? I know you'll be a great parent even if you aren't married anymore."
2 "How to reply to a compliment about caring nature."
"Thank you, I'm glad you think so."
"Thank you, I do my best."
3 "When your rich long distance boyfriend ghosting..does it mean that he's testing to see whether you are a gold digger or not."
I would say that when your partner does something that confuses you or hurts your feelings like ghosting on you, it's okay to ask them what's going on. "I notice you haven't been in contact much, are we cool or is there something I should know?" I also think that instead of looking at the situation as a test you must pass, think of it as if you were giving the test: Is being ghosted ok with you? Do you let this boyfriend get away with treating you poorly because he has money?
4 "What to tell your coworkers who ask about you when you are on leave due to mental illness."


It's really up to you what you disclose. "I'm taking some time off to deal with some health issues, thanks so much for checking on me" is more than enough information if that's what you're comfortable sharing.
5 "Ran into a woman that I had an awkward date with."
I've lived in the same city since 2000 and this has happened to me so many times
So.
Many.
Times.
It doesn't have to be a bad thing, especially if everyone follows the rule of "treat everybody you meet like you will probably run into them again someday." The way I generally handle it is to a) say a very quick and pleasant hello and b) if they are with friends, I do not bring up the fact that we know each other in a dating sort of way. There are a few exceptions, depending on why the date was awkward – Handsy McGropesalot or "Pilsen's Most 'Authentic' & 'Interesting' Man (Ugh)" or The Guy Who Would Not Break Eye Contact Even For A Second get a terse "'sup?" or nod followed by immediate evasive tactics. But a basically nice person I just didn't click with? "Hey, how have you been, nice to see you!" and no worries after that. It's a both a big world and a small world.
6 "How to reply to your ex if he asks are you still mad."


You don't owe this question an answer, but I think the truth can be pretty liberating. "I mostly don't think about you. Why do you ask?"
If you're still mad, maybe say that? "Yep, still mad."
7a "I cant find anyone to date with good hygiene." and 7b "How to handle a bf who happens to be dirty body and smelly mouth."

There are enough recurring search terms like this that I feel compelled to say: What is happening out there?
Do you want to touch/date/be close to other people? If so, please bathe regularly (Once a day? Every other day? At least on days you know you're going to see a partner?), wear clean clothes, and brush your teeth often. Do the best you can.
It's okay to ask a romantic partner to freshen up before you do naked or up-close stuff or even before hanging out. "Awesome, let's make out, but can we brush teeth first?" "Can't wait! Wash the gym off first?" "Hey, I need you to shower and brush your teeth before you come see me." Bodies are amazing and wonderful. Also, sometimes they get dirty and stinky. It's okay to acknowledge that.
8 "What to get your son's girlfriend for Christmas when you don't like her."


1 Ask your son if there is something that he knows the girlfriend wants or would find useful.
2 Get her the same thing you'd get her if you did like her? Like, if you're going to get an "I hate you" present maybe it's better to buy nothing at all?
3 Try something generic & consumable rather than an object she will feel compelled to display. For instance, a gift card to a big retailer that would be easy to redeem.
9 "Should you invite someone who assaulted you to your wedding."
No. Just, no. Give yourself the gift of not inviting this person and not worrying about it anymore. Periodic reminder: Your wedding does not exist to spackle over all the rough edges in your family or social circle.
You don't have to keep this person's secrets. You don't have to disclose the details, either. If someone asks you "Why aren't you inviting _____?"
Stuff like: "We're not close." "______ knows why." "Don't want to."
10 "Can you break up after one day?"
You can break up after one minute.
11 "How to get rid of a guy on Facebook."


Block them. Never look back.
12 "Partner leaving because I don't like his kids."
That sounds really hard, but I can respect that as a good reason to break up. "You hate the people I made/raised and have a lifelong commitment to, I don't think love for each other can overcome that."
13 "How to reply to someone who nags about your overweight."
"I'm gonna need you to shut the fuck up about my weight from now on."
"It's really weird that you think my body is your business."
"I don't care what you think."
"Please stop talking."
14 "50 and husband criticizes my clothes." 


"Husband, I am half a century old. This is what I'm wearing. This is how I dress. Let it go."
15 "I made my boyfriend come with me everywhere."
Ok? Why? Was he cool with that?


16 "How do you get your new neighbor to stop asking you for things without being nasty."
Decide in advance that you will just say no to whatever it is without negotiating. That makes it easier in the moment to say, "Oh no, I don't lend that out." "Can't help you out, sorry." "No, sorry, please ask somebody else." You can't prevent them from asking but you can make it boring and unproductive for them to keep doing so.
17 "How do I stop a person from inviting herself to stay regularly."

As in the example with the neighbor, you can't prevent her from asking in the first place but you can say "no" every single time. "That won't work for me." "I can't put you up anymore." "Please stop asking." "Please find somewhere else to stay."
18 "She cut me off and now I'm having second thoughts about the break up."
Oops! You could try to reach out one time to say "I'm sorry and I'm having second thoughts, can we talk?" as long as you understand that no answer is in itself a kind of answer.
19 "My ex keeps calling me but doesn't want to date right now."
You don't have to keep taking these calls. "Hey, Ex, I respect that you don't want to get back together! These frequent calls are making it hard for me to move on and let go of our relationship, so I'd appreciate it if you stopped."
20 "Ex says he doesn't want a relationship right now."
Then the relationship is over.
21 "Boyfriend breaks up tells you good luck wish you happiness and lets be casual friends what does that mean?"
He'd like to part on friendly terms and he wishes you well. "Casual friends" = He'd like to be on friendly terms when he runs into you but not necessarily make an effort to be close or spend time together.
22 "So far retirement is endless dishwashing, clotheswashing, and 'what's for dinner?'"
TIME FOR A NEW ROUTINE FOR EVERYONE INVOLVED IN THIS STORY. It sounds like people need things to do outside of the house, a rebalancing of household chores, and some serious alone time.
23 "Want to quit my 10 year job but feel guilty."


You've given this place 10 years of service. If you're ready to be done, it's okay to be done. It's not exactly comforting but chances are if they needed to fire you or lay you off, they'd do it without another thought.
24 "How to tell if a guy is too intense."
If he's too intense for you, then he's too intense. Examples of behaviors that have made me write someone off as too intense for me in the past:
Upon connecting on social media, I feel like he is monitoring everything I have ever said and done. "Likes" and comments showing up on every single post, including stuff from long ago.
Wants to spend every waking moment together. Interrogates me if I say I have other plans. Wants to come along to literally everything.
Makes lots of jokes about getting married & having kids really early on. "Our kids will be so beautiful and smart!" "Um okay I've known you for 3 hours what kids."
Seems to be making a ton of plans that center around me, especially really early on. "Well, I was gonna move into a new place but I don't want to be 2 buses away from you!" "Um okay I've known you for 3 hours don't plan your life around me."
Overly quick to drown me in reading material and stuff to watch or listen to, like, "Date me, DATE MY POP CULTURE REFERENCES." I already have my own taste, bro.
Doesn't pay attention to reciprocity, like, I'd go into a movie or teach a class and turn my phone off for a couple hours and come out and have 10 long paragraphs of text messages.
Seemed overly vigilant and weird about male friends & colleagues, treating them like potential competition.
Way into public displays of affection & constant touching.
Too thick with compliments, especially about physical stuff. "You have the most beautiful eyes I've ever seen." "Um, okay, they're brown?" I like being told that I'm pretty but I like being told that I'm good at something more and I don't like lines that feel recycled.
If you'd like an audio-visual example, here's a short film I directed about this.
Bottom line: It's awesome to feel seen, it's suffocating to feel monitored.
25 "Flirt someone internet regret."


Aw, buddy. It happens to the best of us. Leave your regrets in 2017 if you can.
Love and light to all of you in Awkwardland.